Bitcoin, the pioneer of blockchain technology, is renowned for its robust security and simplicity. However, its smart contract capabilities have been relatively limited compared to platforms like Ethereum. Enter BitVM, a groundbreaking proposal by BTC developer Robin Linus, offering a whitepaper that aims to transform Bitcoin's smart contract landscape.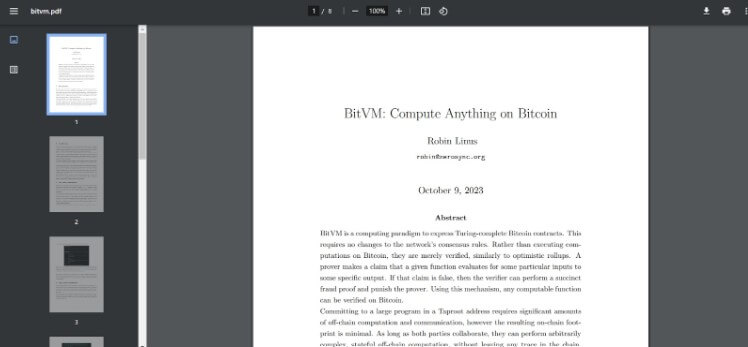 In case you want to read the full document, you can access BitVM Whitepaper here.
Expanding Bitcoin's Smart Contract Horizons
One of the notable features of BitVM is its ability to express Turing-complete Bitcoin contracts without requiring any modifications to the network's consensus rules. Unlike other blockchain platforms, where smart contracts are executed on-chain, BitVM adopts a different approach. It verifies computations off-chain, similar to the concept of optimistic rollups.
In this model, a prover asserts that a specific function evaluates correctly for given inputs. The verifier can generate a brief fraud proof to penalize the prover if proven false. This mechanism allows verifying any computable function on the Bitcoin network.
Efficient Off-Chain Computation
One key advantage of BitVM is its efficiency in off-chain computation. Committing to a substantial program in a Taproot address necessitates considerable off-chain computation and communication. However, the resulting on-chain footprint is remarkably minimal. That means that as long as both parties collaborate, they can engage in highly complex, stateful off-chain computation without leaving any significant trace on the blockchain. On-chain execution only becomes necessary in the event of a dispute.
A Redefinition of Bitcoin's Smart Contracts
Bitcoin's smart contract capabilities have traditionally been confined to basic operations like signatures, timelocks, and hashlocks. BitVM breaks free from these constraints, creating a fresh design space for more expressive Bitcoin contracts while accommodating off-chain computation. It represents a significant leap towards expanding the utility of Bitcoin beyond being solely a digital currency.
You might also be interested: $4 Trillion Crypto Market in 5 Years: Possible? 
Fraud Proofs and Challenge-Response Protocol
BitVM's core functionality relies on fraud proofs and a challenge-response protocol. This design aligns it with concepts like Optimistic Rollups and the MATT proposal (Merkelize All The Things). Fraud proofs allow for the verification of program execution by encoding them in large Taptrees. This approach effectively grants Bitcoin Turing-complete capabilities, broadening the scope of its potential use cases.
Limitations and Future Prospects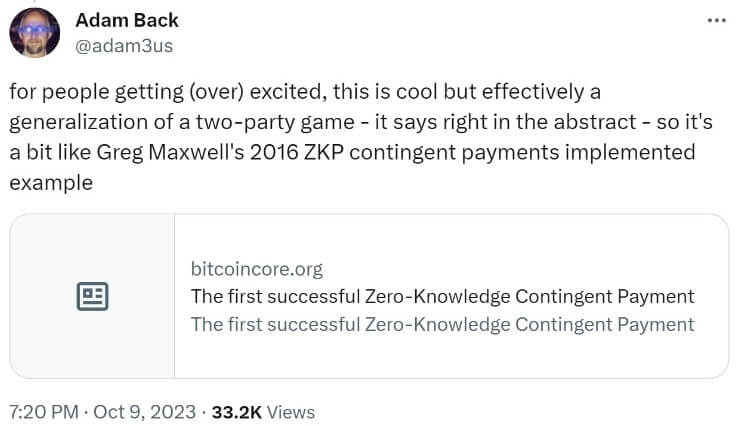 The full article mentioned in the tweet: Read here
While BitVM presents a remarkable step forward, it's important to acknowledge its limitations. One significant constraint is its restriction to the two-party setting. However, this may serve as a foundation for further advancements and generalizations in the future. As with any groundbreaking proposal, BitVM represents a starting point, and its potential could expand as the technology evolves.
Conclusion: An Evolutionary Leap for Bitcoin?
BitVM, as introduced by BTC developer Robin Linus, is a concept that could redefine Bitcoin's smart contract capabilities. Enabling Turing to complete Bitcoin contracts without altering the network's consensus rules opens doors to new possibilities for the blockchain. As the crypto space continues to evolve, innovations like BitVM may play a pivotal role in expanding Bitcoin's utility and cementing its position as a versatile and secure blockchain platform.