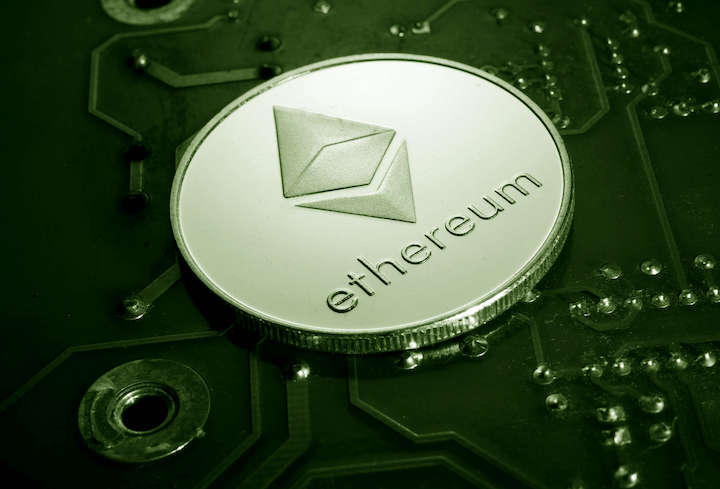 Ethereum, the blockchain giant known for its innovation and seamless upgrades, recently faced an unexpected hurdle in the launch of its Holesky testnet. While Ethereum has been celebrated for its ability to implement crucial upgrades smoothly, this episode serves as a reminder that even the most robust networks can encounter occasional setbacks.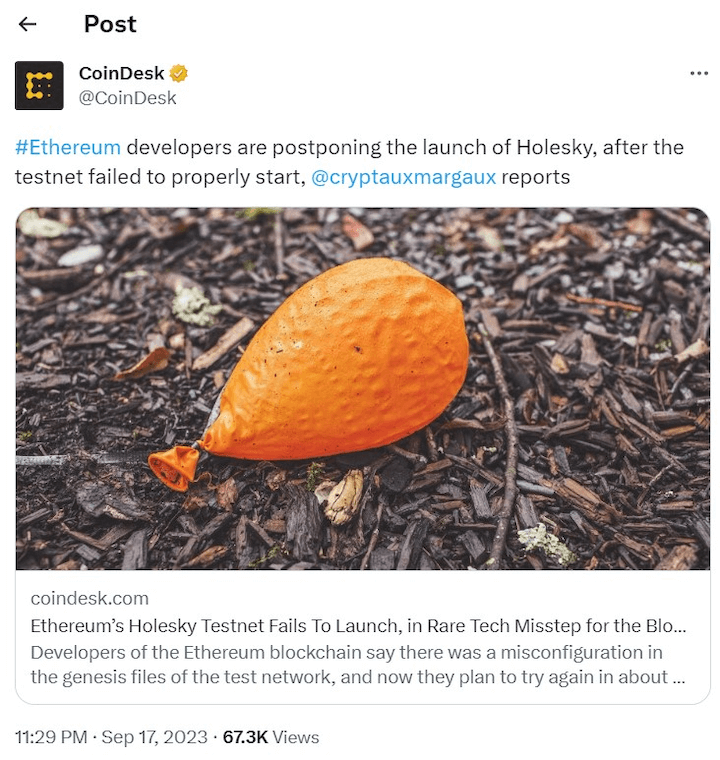 Genesis File Misconfiguration
The setback in the Holesky testnet launch was attributed to a misconfiguration in one of the crucial genesis files that underpin the network's infrastructure. Ethereum core developers, responsible for maintaining the network's integrity and stability, identified this issue as the primary cause of the testnet's failure to launch as expected.
An Uncommon Occurrence for Ethereum
For Ethereum, encountering such a glitch is indeed an uncommon occurrence. Over the past year, the network has implemented significant upgrades, including the "Merge" and "Shapella." These upgrades were executed seamlessly, earning Ethereum a reputation for its reliable ability to adapt and evolve without major disruptions. However, the Holesky testnet hiccup reminds us that even the most advanced technologies are not immune to occasional technical challenges.
The Significance of Smart Contracts
Smart contracts are self-executing agreements with the terms of the contract directly written into code. These contracts operate autonomously, executing predefined actions when certain conditions are met. Think of them as programmable contracts that can perform tasks without intermediaries. This innovation has opened doors to various applications, from decentralized finance (DeFi) to non-fungible tokens (NFTs) and more.
Learning from the Holesky Testnet Incident
Ethereum stands as the second-largest blockchain in the world, trailing only behind Bitcoin in terms of market capitalization and global recognition. What sets Ethereum apart is its unique ability to support smart contracts, a feature that has propelled it to the forefront of blockchain innovation.
Ethereum's allure extends beyond its smart contract capabilities. The blockchain has nurtured a thriving ecosystem of secondary networks known as layer-2 blockchains. These networks are designed to alleviate Ethereum's congestion and enhance scalability, making it more efficient for developers and users.
While the Holesky testnet incident may be seen as a minor hiccup in Ethereum's otherwise successful journey, it is a valuable lesson. The world of blockchain and cryptocurrency is ever-evolving, and even established giants like Ethereum must remain vigilant to ensure their networks' continued smooth operation.
The Importance of Rigorous Testing
One crucial aspect that blockchain projects, including Ethereum, must continually emphasize is rigorous testing. Testnets are pivotal in identifying and rectifying potential issues before they affect the mainnet. The Holesky testnet incident underscores the necessity of meticulous testing procedures to guarantee the reliability of blockchain networks.
Community Response and Resilience
Ethereum's strong and resilient community of developers, validators, and enthusiasts sets it apart. In response to the Holesky testnet hiccup, the Ethereum community came together to address the issue swiftly. This collaborative spirit and commitment to resolving challenges are emblematic of Ethereum's enduring strength.
Looking Ahead: Ethereum's Continued Evolution
The Holesky testnet incident serves as a reminder that innovation often comes with its share of challenges. However, Ethereum's history of overcoming obstacles and consistently evolving suggests that this setback will unlikely deter its progress. As the blockchain ecosystem grows and adapts, Ethereum remains a beacon of innovation, ushering in a new era of decentralized apps and smart contracts.
Conclusion: A Temporary Glitch in Ethereum's Success Story
In the grand narrative of Ethereum's journey, the Holesky testnet incident appears as a minor chapter — a temporary glitch in an otherwise remarkable success story. As Ethereum continues to shape the future of decentralized technology, it will encounter obstacles. Still, its resilience and commitment to innovation will ensure that it continues leading the way in the blockchain and smart contracts world. This episode is a testament to the blockchain community's dedication to progress, no matter the challenges.
You might also be interested: BNB Chain's Layer 2 Network Goes Live