The world of Web3, marked by decentralized technologies and blockchain-based innovations, has recently come under scrutiny due to a concerning trend in security breaches. According to the Q3 2023 Global Web3 Security Report, compiled with statistics from the Beosin EagleEye platform, the total losses from hacks, phishing scams, and rug pulls in Web3 reached $889.26 million this quarter. This alarming figure signals a critical need for heightened security measures and a deeper understanding of the evolving risks in the Web3 landscape.
You might also be interested: Binance Labs Fuels Helio Protocol with $10M Investment
Major Attacks: A $540.16 Million Blow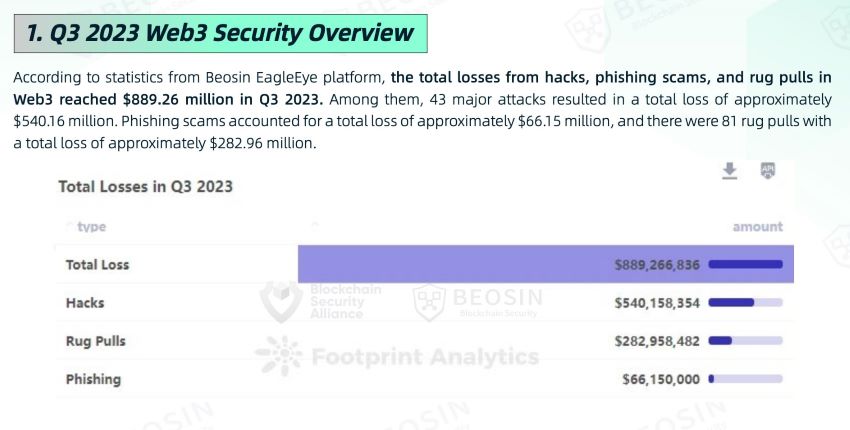 In Q3 2023, the Web3 space witnessed a significant surge in major attacks. Beosin EagleEye, a vigilant monitoring platform, reported 43 major attacks, resulting in a total loss of approximately $540.16 million.
Among these incidents, one particularly striking case involved a security breach with losses exceeding $100 million. Seven other incidents incurred losses ranging from $10 million to $100 million, while nine more recorded losses between $1 million and $10 million.
The scale of these major attacks underscores the sophistication and audacity of cybercriminals targeting the Web3 ecosystem. As Web3 continues gaining traction, the stakes for security experts and users are higher than ever.
Real-World Examples: Illustrating the Severity of Losses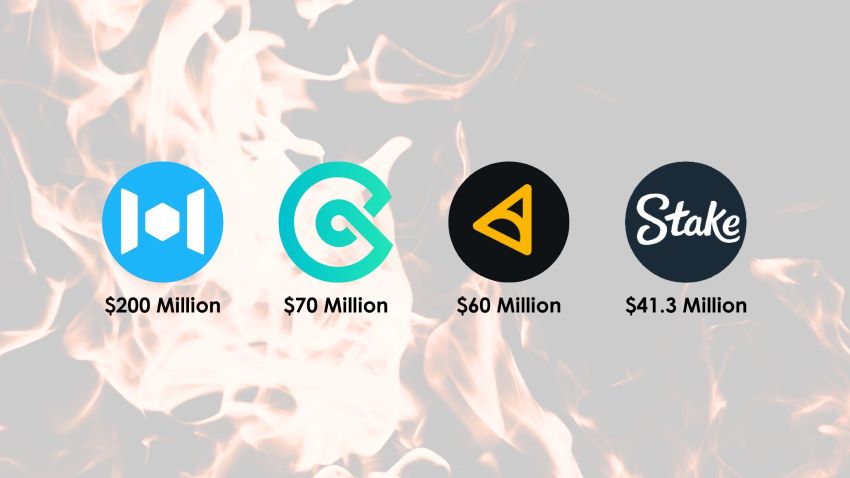 Mixin Network — $200 Million: On September 25, Mixin Network's cloud service provider fell victim to a database hack, resulting in a partial mainnet asset loss of approximately $200 million. This incident is a stark reminder of the vulnerability of centralized infrastructure in a decentralized world.
CoinEx — $70 Million: On September 12, a private key compromise led to the theft of the hot wallet of crypto exchange CoinEx across 211 chains. The total losses reached a staggering $70 million. This attack was attributed to the notorious North Korean Lazarus group, highlighting the global reach of cybercriminal organizations.
Alphapo — $60 Million: On July 23, the hot wallet of crypto payment service provider Alphapo was breached, resulting in total losses of $60 million. This attack was also attributed to the North Korean Lazarus group, emphasizing the need for heightened security awareness in the Web3 space.
Stake — $41.3 Million: On September 4, crypto casino platform Stake fell victim to a hot wallet hack, resulting in losses of $41.3 million. This incident, once again linked to the Lazarus group, highlights the persistence and adaptability of cyber threats.
Escalating Losses: A Troubling Trend
The Q3 2023 statistics reveal a disturbing trend of escalating losses within the Web3 ecosystem. Compared to the first half of 2023, where losses amounted to approximately $330 million in Q1 and $333 million in Q2, Q3 witnessed a substantial surge, reaching an unprecedented $889.26 million. This increase in losses serves as a clarion call for the Web3 community to fortify its defenses and develop proactive strategies for safeguarding digital assets.
Conclusion: Navigating Web3's Security Challenges
As Web3 continues to reshape the landscape of finance and technology, the need for robust security measures cannot be overstated. The Q3 2023 Global Web3 Security Report paints a stark picture of the risks with decentralized technologies, emphasizing the importance of vigilance and innovation in security practices. Real-world examples of major attacks further highlight the vulnerabilities within the Web3 space.
In this evolving landscape, it is imperative for stakeholders, from individual users to industry leaders, to stay informed, adopt best practices, and collaborate on security initiatives. Only through collective efforts can the Web3 ecosystem continue to thrive while mitigating the risks that threaten its growth. The challenges are real, but with diligence and adaptability, the Web3 community can pave the way for a more secure and resilient future.