In a strategic move poised to reshape the future of decentralized finance, Binance Labs has recently announced a substantial investment of $10 million into the Helio Protocol. This capital injection marks a significant turning point for Helio, a pioneering platform initially rooted in the proof-of-stake network BNB Chain. With this newfound financial backing, Helio Protocol is set to embark on a transformative journey, transcending its current boundaries and embracing a broader multi-chain ecosystem.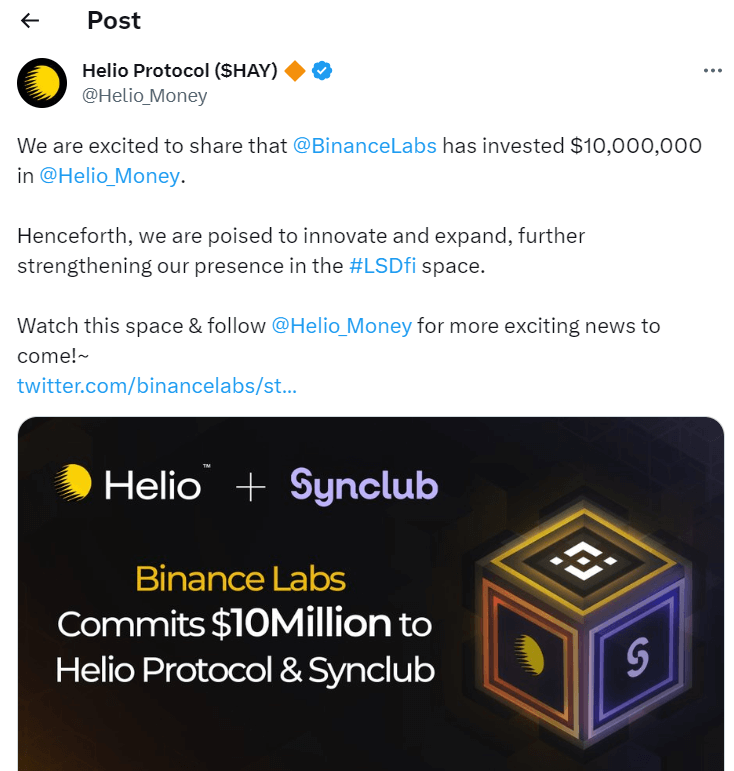 Unlocking the Potential of Liquid Staking
Liquid staking has emerged as a pivotal concept within blockchain and DeFi. Traditionally, staked assets have been subject to illiquidity, restricting holders from accessing their funds for other purposes. Helio Protocol's ingenious approach to liquid staking aims to shatter these barriers, liberating the locked value within staked assets. This injection of funds from Binance Labs heralds a new era for Helio, allowing the platform to accelerate the development and implementation of its liquid staking pivot.
Diversification of Chains Beckons
While Helio Protocol currently thrives within the BNB Chain ecosystem, the investment from Binance Labs brings a more expansive vision to fruition. The platform's ambitions now extend beyond its native chain as it sets its sights on integration with other prominent blockchain networks. A spokesperson from Binance Labs elucidated, "Helio's objective is to launch on Ethereum and subsequently with prominent L2 networks like Arbitrum and Zksync." This strategic move seeks to capitalize on the inherent strengths of various chains, fostering interoperability and broadening Helio Protocol's reach.
A Paradigm Shift: From Stablecoin Minting to Holistic Decentralization
Historically recognized for its stablecoin minting services, Helio Protocol has redefined its trajectory through this substantial investment. Users were previously empowered to mint HAY, a dollar-pegged decentralized stablecoin, by staking an over-collateralized amount of BNB. This mechanism bore semblance to the workings of Maker's DAI and Aave's GHO stablecoin. However, the investment from Binance Labs will catalyze a profound transformation, enabling Helio Protocol to evolve into a comprehensive decentralized ecosystem.
Fostering Innovation: A Symbiotic Partnership
The collaboration between Helio Protocol and Binance Labs epitomizes the synergy that can arise between visionary blockchain projects and forward-thinking investment entities. Binance Labs' strategic decision to channel $10 million into Helio speaks volumes about the platform's potential and underscores the significance of nurturing innovation in blockchain. This partnership serves as a testament to the power of collective ingenuity in propelling the DeFi landscape toward new horizons.
Looking Ahead: A Glimpse into the Future
As Helio Protocol embarks on this transformative journey, the blockchain and DeFi communities eagerly await the realization of its ambitious vision. The infusion of funds from Binance Labs catalyzes Helio Protocol's liquid staking pivot and multi-chain expansion to the forefront of industry innovation. The integration of Ethereum, Arbitrum, Zksync, and other prominent networks promises to unlock unparalleled opportunities for users and stakeholders.
In conclusion, the announcement of Binance Labs' $10 million investment into Helio Protocol marks a monumental chapter in the evolution of decentralized finance. The convergence of liquid staking, multi-chain integration, and innovative decentralized solutions positions Helio Protocol as a trailblazing force, redefining what is achievable within the DeFi ecosystem. As Helio Protocol's journey unfolds, it will leave an indelible mark on the blockchain landscape, inspiring others to push the boundaries of innovation and reshape the future of finance.
Learn more facts on Binance: Binance Withdrew Crypto License Application in Germany.