Welcome, dear blockchain enthusiasts, to a thrilling journey that's about to add a dash of excitement to your digital life! The wizards over at BNB Chain have pulled off something magical — they've introduced the world to Greenfield, a decentralized data storage network that's set to make waves. So, fasten your digital seatbelts, and let's dive into this adventure!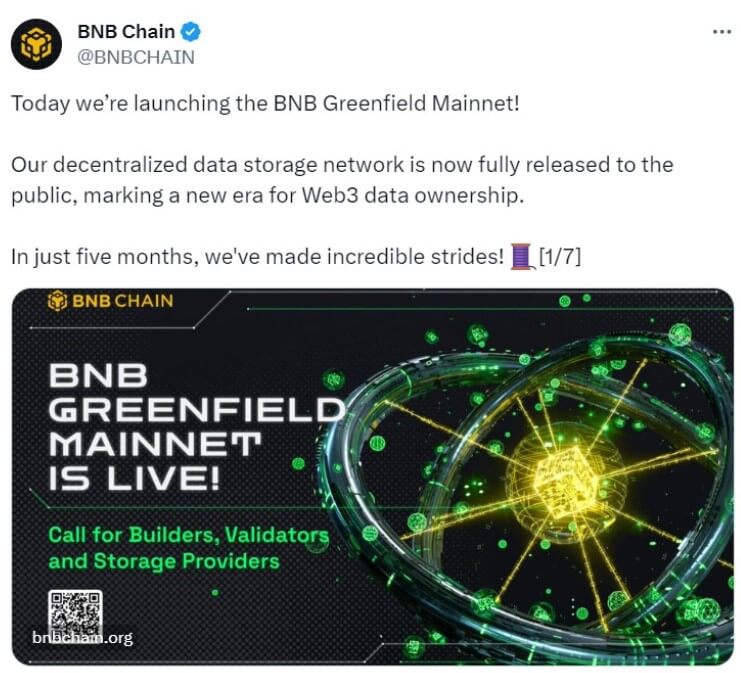 Blockchains: The High-Stakes Adventure
Before we get into the fun stuff, let's quickly decode the world of blockchains. Think of them as supercharged databases but with a bit of a spending spree attached. A whopping 70% of transaction fees are gobbled up by these blockchains, all in the name of overwriting a few bytes in smart contract storage and broadcasting the changes to tons of nodes. It's powerful, but boy, does it come at a cost!
You might also be interested: Ethereum Futures ETF Fail Explained
The Fun Begins: Decentralized Data Storage
Now, here's where the adventure takes a thrilling twist! Imagine a blockchain tailor-made for data but without the wallet-busting fees. That's exactly what decentralized data storage networks, like Greenfield, offer. You still pay for storage, but it's wallet-friendly, especially when compared to the Ethereum highway robbery. So, it's time to store your data without creating a dent in your digital piggy bank.
Meet Greenfield: The Life of the Party

Ladies and glentlemen, allow us to introduce the life of the party — Greenfield! This decentralized data storage network is not just impressive; it's downright marvelous. With Greenfield, you're granted a golden ticket to a world of possibilities!
Decentralized Database for AI Training
Say hello to the perfect playground for AI aficionados! Greenfield lets you create a decentralized database designed specifically for AI training. Think of it as giving AI developers and researchers the wings to soar and innovate. It's the digital equivalent of a superhero's cape!
Unstoppable Frontend and Backend Hosting
Have you ever dreamt of a website that's immune to censorship? Well, Greenfield makes that dream a reality. You can host your site's frontend and backend on this decentralized network, rendering it practically impervious to those pesky blocking attempts. It's like a digital revolution in an era of digital restrictions — exciting, right?
Smart Contracts for Content Monetization
Ready for some content monetization fun? Greenfield lets you use smart contracts to turn your content into a cash cow. Whether you're a creator, a wordsmith, an artist, or a tech whiz, the possibilities are endless. Create your content, and let Greenfield ensure you reap the rewards you rightfully deserve.
The BNB Chain Team: Visionaries Extraordinaire
The team behind BNB Chain isn't just building a network; they're crafting a visionary future for the blockchain universe. Their mission is to make blockchain's innovative technology accessible and practical for everyone. The launch of Greenfield is a significant step toward this grand vision, and we're all invited to the party.
Greenfield: Where Practicality Meets Innovation
What sets Greenfield apart is its commitment to making blockchain not just decentralized but also practical and affordable. It's all about weaving blockchain seamlessly into everyday life. Greenfield envisions a world where blockchain is part of our daily routines, and they're bringing that vision to life with style.
The Thrilling Road Ahead
As we embark on this thrilling journey into decentralized data storage with Greenfield, one thing is evident — the blockchain realm is evolving at lightning speed, and BNB Chain is leading the charge. The possibilities that Greenfield unlocks are mind-boggling, and we're all in for an exhilarating ride!
So, get ready for a future where AI thrives, websites are immune to the naysayers, and content creators are celebrated and rewarded. BNB Chain's innovative approach is redefining the blockchain landscape, making it more accessible, exciting, and fun than ever before 🚀🌟