Hey there, fellow crypto enthusiasts! Let's take a moment to have a good laugh at a little oopsie that recently happened in the wild world of cryptocurrency news. We're talking about when Cointelegraph got everyone in a tizzy by sharing false news about a spot Bitcoin ETF.
A Walk Down Memory Lane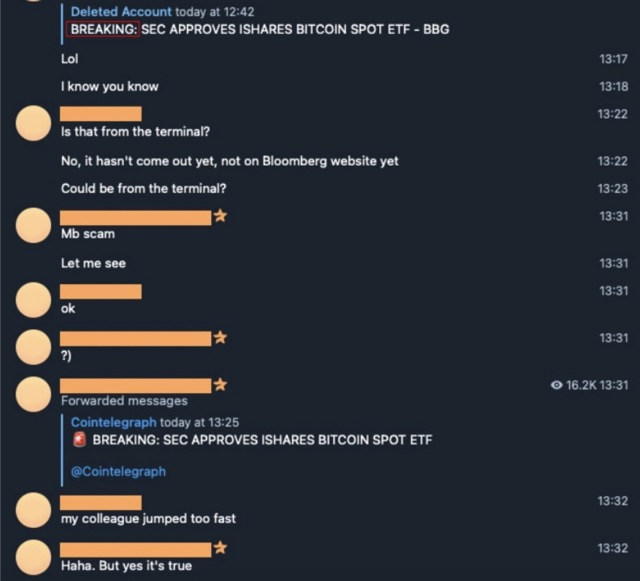 You can access all chat history here.
So, picture this: Cointelegraph's social media team decided to have a little fun, probably thinking, "What's the worst that can happen?" Well, they found out pretty quickly! Without the usual editorial green light, they posted a message on some platform that we now call "X." This message boldly claimed that the United States SEC had given the nod to BlackRock's iShares spot Bitcoin exchange-traded fund (ETF). Huzzah, right? Wrong! Turns out, this was nothing but a juicy piece of misinformation pie.
Where did this grand fiasco start, you ask? It all began with an unconfirmed screenshot that an X user claimed to have pulled straight from the legendary Bloomberg Terminal. You know, that magical place where financial wizards do their magic? Except in this case, not so much. Cointelegraph decided to take a leap of faith, which was more like a leap of faithlessness (if that's even a word). They hit the "post" button, and the rollercoaster ride commenced.
You might like: NFT Frenzy: When $1.6K Becomes $1.6 Million 
Liquidation Blues
Now, this sort of slip-up wouldn't matter much. I mean, we all have our clumsy moments. But, oh boy, it did matter! The effects were felt far and wide. It's like those dominos you set up and then accidentally bump into, and they all come crashing down.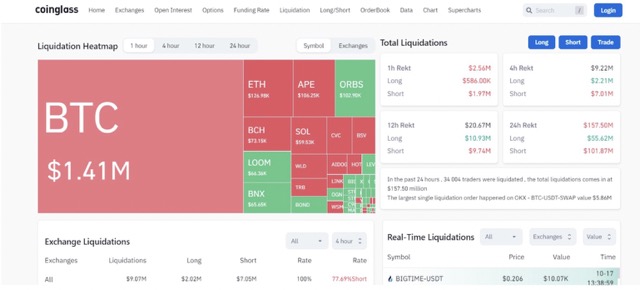 Cointelegraph's false post led to the liquidation of a whopping $97 million in short positions and $57 million in long positions. Oopsie! We can picture traders pulling their hair out, screaming at their screens, "Cointelegraph, how could you?!" It was almost like a "Liquidation Nation" out there.
The Apology Tour
As the dust settled and the crypto world collectively shook its head, Cointelegraph decided to go on an "apology tour." They reached out to BlackRock to double-check if the news was fake as a three-dollar bill. Surprise, surprise, BlackRock confirmed that the report was about as real as unicorns, Bigfoot, and your chances of becoming a crypto millionaire overnight.
So, the Cointelegraph team did the right thing. They retracted the tweet, issued a statement saying, "Whoops, our bad!" and put their thinking caps on.
Lessons Learned
Now, the silver lining in all of this is that Cointelegraph isn't just sweeping the mess under the crypto rug. No, siree! They've decided to roll up their sleeves and take a good, hard look at their social media management processes. They're focusing on authenticating breaking news before they unleash it on the unsuspecting world.
It's kind of like that moment when you accidentally put salt instead of sugar in your coffee, and you vow never to make that mistake again. Only, in Cointelegraph's case, it was more like accidentally setting your coffee maker on fire in the process. But hey, we've all been there!
So, let's give a tip of our virtual hats to Cointelegraph for facing the music, saying sorry, and learning from their oh-so-human slip-up. After all, in the ever-exciting world of cryptocurrency, sometimes you just have to roll with the punches and keep on hodling.