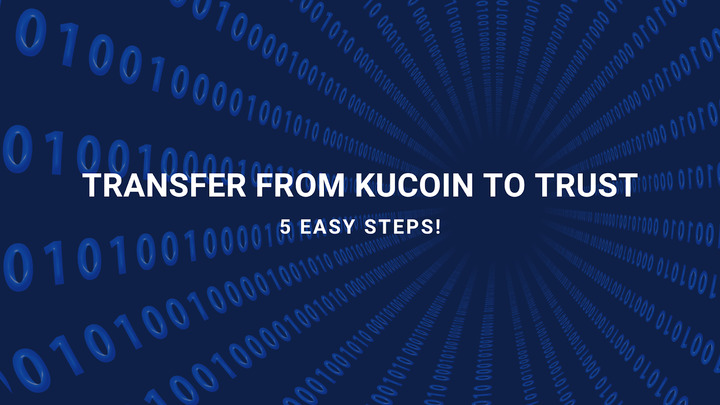 How do you transfer from Kucoin to Trust Wallet? Are there any Kucoin transfer fees? How to withdraw from KuCoin? All of it can be done on the Kucoin exchange, allowing users to withdraw all tokens like BNB, ETH, or USDT. Users can directly transfer them to their Trust Wallet accounts. These transfers are very cheap on the Kucoin exchange. Plus, unlike many other crypto exchanges, it has a very low fee, making it very popular among traders and users.
You can directly transfer your assets and money into the Ethereum chain or Binance Smart Chain on the Trust Wallet through Kucoin. According to Coin Market Cap data, this has led to the company becoming the 6th most popular crypto exchange.
Are you looking for a step-by-step guide on how to transfer money from Kucoin? You are in the right place. This article will give you a simplified 5-step guide on how to transfer. Read on to find out.
5 Easy Steps to Transfer from Kucoin to Trust Wallet
That is one of the simplest solutions if you are trying to find a way to store your crypto money in a cold wallet. That is a simple and easy process if you learn how. Read these five easy steps to get started today!
Step 1
No matter what device you use, download and launch the app on your device, tablet, or mobile. Then sign into your exchange account and "click" on the wallet option. You will find this option in the top right corner of your screen, no matter what device you use. You can also use the exchange on your computer. Then you have to log in through their website.
Step 2
So how do you send BNB to Trust Wallet? You also download and launch the app on your device. After that, you select the "Smart Chain" option. But if you are transferring any other coin like ETH or Bitcoin from Kucoin, select that option from the available balance list on the page.
If your desired crypto coin is not on the list, there is a filter option to streamline your search further. After this, they will show you a "token" type and multiple options. Select the desired token type you want to receive and enable it with the button.
Step 3
Now go back to the main homepage and see your asset types. Click on receive and copy your wallet address directly once the address is successfully copied.
Step 4
Then, on the Kucoin app's asset page, go to "Asset Overview." Here you will see a "withdraw" option. Click on that option. Once the link is copied on the app, copy and paste it into its "Wallet Address" option to initiate the withdrawal process.
Step 5
After you click on the withdrawal option, you can select the amount you want to transfer and proceed with the process. Click on "confirm" to start.
Additional Pro Tip
You must remember that transferring funds from Kucoins to any wallet is the same. So, to make the transfer safe and secure, you need to have the correct address.
You can leave the remark field empty because it is not a compulsory section. But you must take notice of the fees charged for the transfer to keep track of your money.
Once the transfer is successfully initiated, it takes around 3-10 minutes only to reflect on your account.
Though we gave a walkthrough of how to transfer from Kucoin to Trust Wallet, the process is similar on their website.
FAQ
Is transferring from Kucoin safe for your funds? 
Kucoin is one of the most widely used crypto exchange apps that is user-friendly and used by millions of users across the globe. This app supports all transfers and deposits and is a secure exchange app.
Does Kucoin have a wallet?
No, the company does not have its own non-custodial or cold wallets. But the exchange still has a wallet system. The exchange is tied to a wallet tied to your account, which helps users transfer, receives, and trade all types of crypto. That is only initiated after completing your KYC on the website or app.
Kucoin does not have its wallets, but this account can be used for all things crypto. The only drawback is that users do not get a private key for the account, which is available on non-custodial wallets. 
What is the Kucoin wallet address?
Your address on your Kucoin exchange app or website is one of the most important information. This information will help you receive and transfer crypto from other exchanges. Kucoin has many different options, but none of them is its own. You need to install the app of your choice, in this case, Trust Wallet, to conduct the transaction successfully.
Wrapping Up
Transferring crypto from your Kucoin app to your Trust Wallet does not have to be a nightmare if you know the right steps. You must download both apps and copy the correct address to smoothen the process. 
We hope this was helpful if you are here on our website looking for a quick guide on transferring from Kucoin to Trust Wallet. That is a beginner's step-by-step guide, and we hope it helps you get started.