If you've ever bought cryptocurrencies via exchanges, you must have faced the need to pass KYC. Nowadays, more and more trading platforms require users to verify their identities to qualify for deposits and withdrawals.
Going through KYC procedures can be time-consuming. So what if you need to complete cryptocurrency transactions quickly? Is there a way to bypass verification? Fortunately, there are certain no KYC crypto exchanges and P2P platforms. Read further to discover time-tested resources for buying and selling digital coins without verification.
What Is KYC? 🛂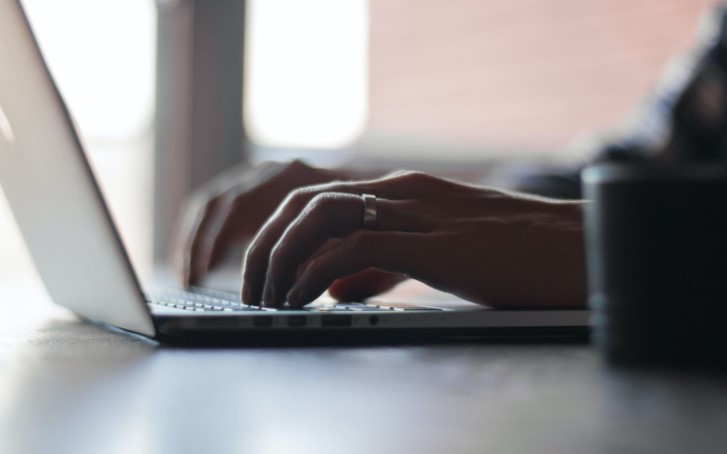 KYC (Know Your Customer) is a set of procedures used by companies to verify the identity of their customers. The process typically involves providing proof of identity and other personal information. The purpose is to ensure that the customer is who they claim to be and to prevent fraud and money laundering.
The KYC procedures may differ across platforms. However, here are some of the most common checks you may have to pass.
Passport/ID Verification
Often, platforms require customers to provide a copy of their passport or ID for identity verification purposes. This process helps verify that the customer is at least 18 years old and their identity documents are legitimate.
Address Verification
Another popular KYC process involves checking the address of a person. This check aims to match the address provided against valid government documents or other official records to determine its authenticity.
Biometric Verification
Biometric verification is becoming increasingly popular as a KYC procedure. It involves using facial recognition or fingerprint scanning technology to confirm a person's identity. Biometric checks are usually more secure and accurate than other forms of KYC.
Payment Method Verification
Finally, many crypto exchanges and P2P platforms require users to provide proof of payment methods. Such a verification helps confirm the legitimacy of your transactions.
Why Is KYC Often Obligatory? ⚠️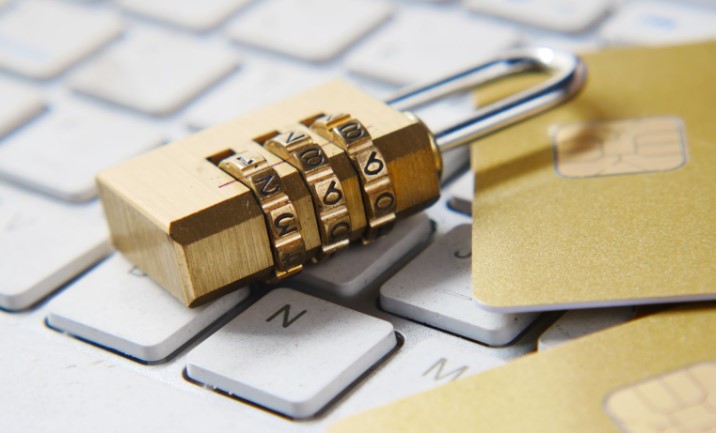 Why is verification so important today? Let's outline the key benefits it provides.
Preventing Illegal Activity
The anonymity and lack of central control over the cryptocurrency industry have led to criminals using digital currencies to illicitly circulate funds. KYC aims to prevent money laundering or terrorist financing transactions. If necessary, the authorities may request the data of specific users from the exchanges.
Peace of Mind for Users
By implementing KYC checks, crypto exchanges and trading platforms gain user trust. For example, let's say you want to buy Bitcoin through a peer-to-peer marketplace. How to make sure that the seller is a real person? Knowing that all participants undergo verification procedures will give you peace of mind that you won't get scammed.
Demands from Regulatory Bodies
Most financial regulators or authorities require market players to have a KYC system. Whenever the government wants to regulate taxation, verification procedures on crypto exchanges may be useful.
Why Do Crypto Holders Want to Buy Cryptos without KYC? 👻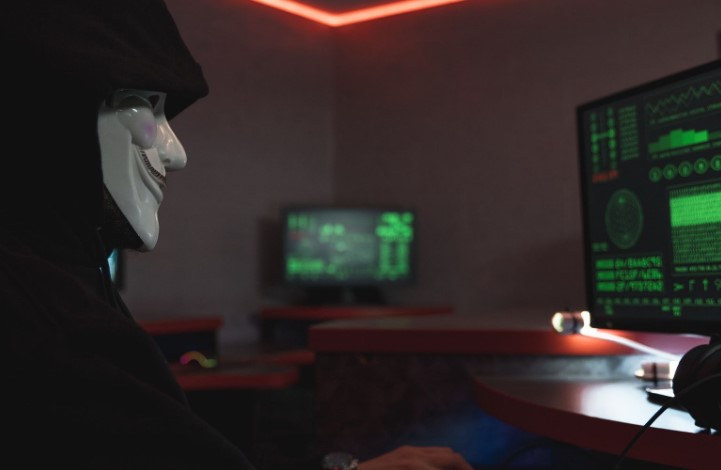 The reasons for implementing KYC procedures seem pretty straightforward. So why do people still want to buy digital coins without KYC? Here are the main reasons.
Anonymity
People opt for non-KYC crypto exchanges mainly for the sake of privacy. The key idea behind cryptocurrencies is the complete anonymity of transactions. However, verification procedures may seem to go against this concept.
When passing verification, users must provide their personal information, such as name, address, and ID. Exchange platforms store this information on their servers, potentially exposing users to the risk of personal data leakage. When buying crypto without KYC, users can remain anonymous and protect their data.
Quick Purchases
KYC procedure can be quite lengthy and time-consuming. In addition, the process usually involves providing a lot of personal data and documents, which can be quite cumbersome.
If you want to make a quick purchase, you may opt for non-verification services. In this case, you only have to deposit funds and buy coins – the entire process won't take more than a few minutes.
Avoiding Government Monitoring
Another reason some people don't want to go through KYC is the fear of government monitoring. With increasing regulation of digital currencies, many people worry that authorities may collect their personal information or even track down their transactions. By using non-KYC exchanges, users can avoid such risks.
Avoiding Transaction Limits
Last but not least, some crypto holders want to buy digital coins without KYC to bypass transaction limits. Most exchanges limit how much a user can buy through their verification procedures. By contrast, without verification, you can obtain larger amounts of crypto.
Is Buying Crypto without KYC Safe? ✔️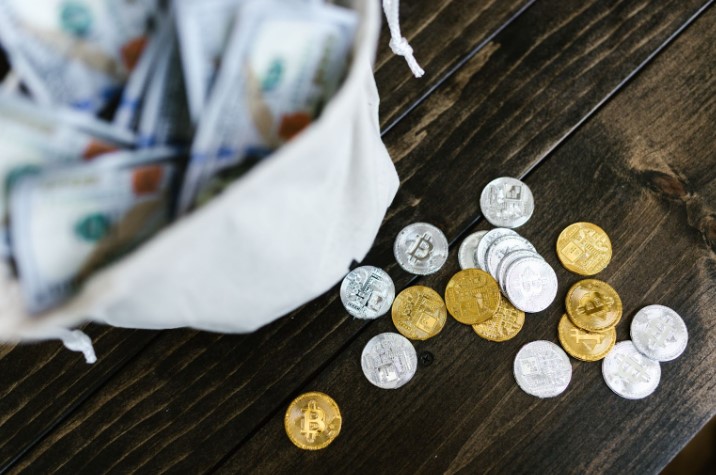 Now that you know why people want to buy digital coins without KYC, let's find out if it's safe.
The security of buying digital coins largely depends on the platform you are using. But, in general, anonymity doesn't harm users.
For example, no-KYC exchanges based in offshore jurisdictions offer numerous advantages regarding security. These platforms are not subject to the KYC, and anti-money laundering (AML) rules that traditional financial institutions are. Thus, a no-KYC crypto exchange doesn't store personal information that can be hacked or stolen.
Furthermore, reputable exchanges have specific security measures in place to protect user funds, such as:
Two-factor authentication
Multisig wallets
Cold storage of digital assets located on the platform
Still, you shouldn't forget about potential risks. Here are some of the critical ones associated with non-verification services.
Security Breach Risk
The security of cryptocurrency exchanges is one of the main concerns for users. While most platforms employ advanced encryption and other safety measures, a crypto exchange without verification can become a target for scammers and hackers. Such vulnerability puts users at risk of losing their funds or falling victim to fraudulent schemes.
Counterparty Risk
KYC procedures help to create a secure environment by verifying the users' identities. On non-verification services, there is no way to know with whom you are dealing. You can never be sure if the person on the other side is trustworthy, whether they act in good faith or have criminal intentions. This risk applies to both sellers and buyers.
Thus, it is essential to do your research when choosing an exchange without verification. Be sure to check the exchange's reputation and its security features. Besides, read user reviews of the platform before making any transactions. Finally, always secure your accounts with two-factor authentication and never store funds on exchanges for a long time.
Buy Crypto without KYC: Your Options 🔢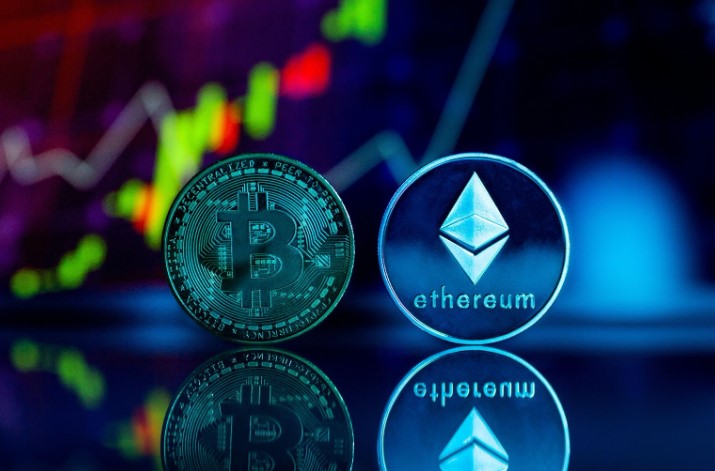 Tired of searching how to "buy crypto no KYC" online? To make your search easier, we've rounded up a selection of non-KYC crypto exchanges and trading platforms.
P2P Trading
P2P trading platforms are online marketplace services that allow crypto users to buy and sell digital assets from each other directly. Unlike traditional exchanges, P2P trading platforms don't act as a middleman in the transaction but rather enable buyers and sellers to find each other and complete the purchase themselves.
What's great about P2P platforms is that they usually don't require KYC, include a range of payment methods, and support various currencies.
Here are examples of reliable no-KYC P2P trading platforms.
Hodl Hodl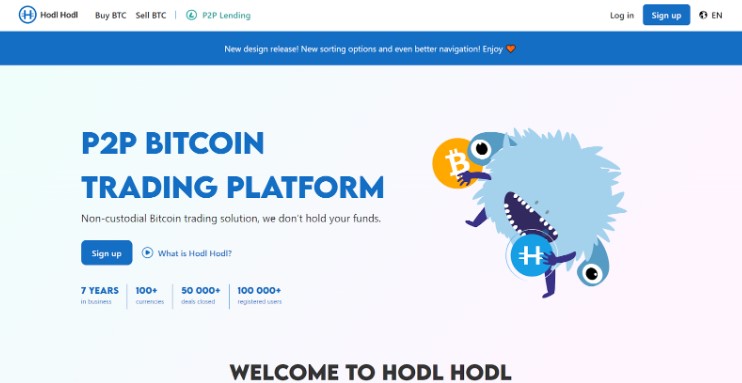 Hodl Hodl is one of the most respected P2P exchanges on the market. It supports BTC only but accepts various payment methods and fiat currencies like EUR, USD, GBP, and CNY. When you buy Bitcoin, no KYC is required.
Moreover, Hodl Hodl uses multi-signature escrow wallets to secure user funds, so you can rest assured that your money is safe.
Bisq
Bisq is a decentralized P2P exchange that offers crypto trading for dozens of digital coins. The only limitation though is that one side of each trade must be BTC.
The platform also supports a range of payment methods, such as bank transfers, money orders, and online payment services. Moreover, Bisq is open source and provides users with enhanced privacy.
Bisq doesn't require users to go through the verification process. Instead, when you buy crypto without KYC on Bisq, your funds are secured by a decentralized escrow system powered by the platform's native token BSQ.
No-KYC exchanges
Now, let's take a look at non-verification exchanges that don't require users to pass KYC.
Our selection includes both centralized and decentralized platforms. A centralized exchange is like a store run by one organization where you can buy and sell cryptocurrencies.
A decentralized exchange is like an online market run by many people together. Everyone has a say in how it works, so no one can completely control it.
CoinEx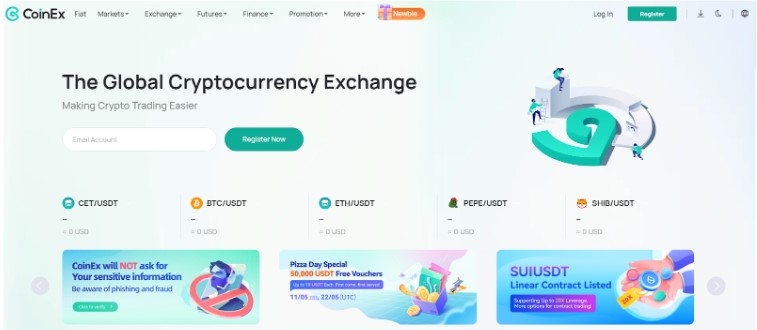 CoinEx is a popular no-KYC crypto exchange based in Hong Kong. It allows users to trade various digital coins, including Bitcoin, Ethereum, and Ripple. CoinEx charges a flat trading fee of 0.2% for transactions you make.
On CoinEx, KYC verification is still present, but it's not obligatory. Unverified users can withdraw up to $10,000 daily from the platform, while verified users can withdraw up to $1 million.
The exchange features a user-friendly interface with two-factor authentication and cold storage of funds. You can also trade on the go using the platform's mobile app.
Gate.io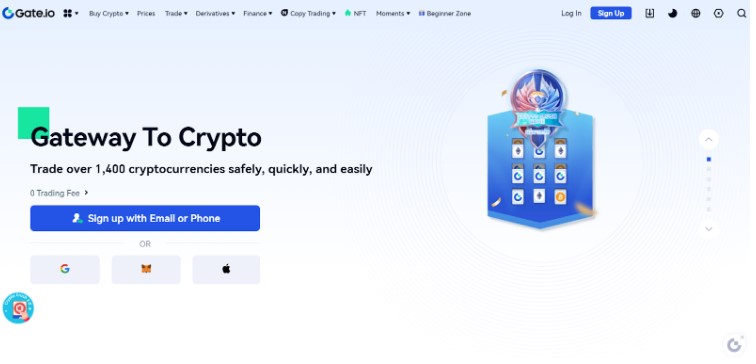 Gate.io is a preferred destination for crypto enthusiasts. Here, you can quickly buy BTC no KYC needed. Still, you'll have to verify your identity to qualify for withdrawals.
The platform is notable for its transparent proof of reserves, showing that all users' assets are fully on the exchange. Plus, the exchange offers two-factor authentication for extra security and a mobile app to trade on the go.
KuCoin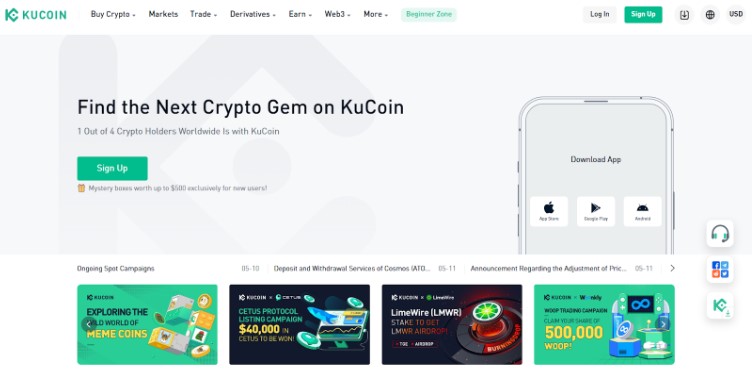 KuCoin is among the most popular and actively developing exchanges with fairly loyal user requirements. On KuCoin, you can trade over 300 digital coins without KYC required until you withdraw your funds. Moreover, transferring funds from KuCoin to an external wallet is quick and easy.
The platform offers a wide range of payment methods and has low transaction fees. To secure your account and funds on the exchange, KuCoin uses two-factor authentication and cold wallet storage. The exchange also provides access to its mobile app for convenient trading.
Changelly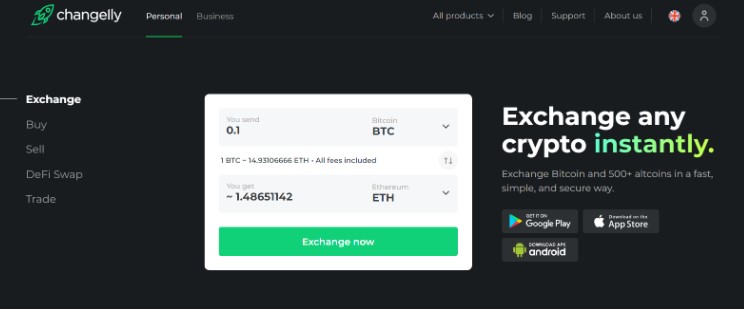 Changelly is a crypto-to-crypto exchange platform that allows users to buy and sell digital coins without any registration procedure. Your email address is the only thing you need to start trading on Changelly.
If you don't want to leave a digital footprint when buying digital coins, Changelly might be your best non KYC crypto exchange. Usually, the platform does not require disclosure of identity. However, if suspicious activity is detected, platform representatives may ask you for additional information for verification procedures.
The platform provides access to its mobile app for trading on the go, two-factor authentication for extra protection of your account, and low transaction fees.
Uniswap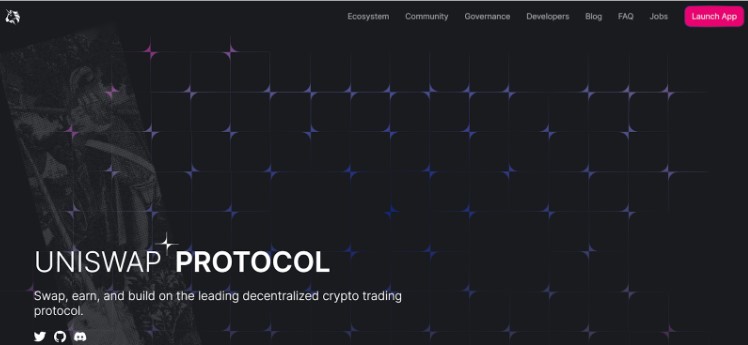 Uniswap operates as a decentralized protocol on the Ethereum blockchain, enabling users to exchange a wide range of ERC-20 tokens via smart contracts. Uniswap also employs automated market-making algorithms to facilitate liquidity, allowing users to trade tokens without requiring a counterparty.
Uniswap is popular due to its high liquidity, lower fees compared to centralized exchanges, and lack of KYC verification.
SushiSwap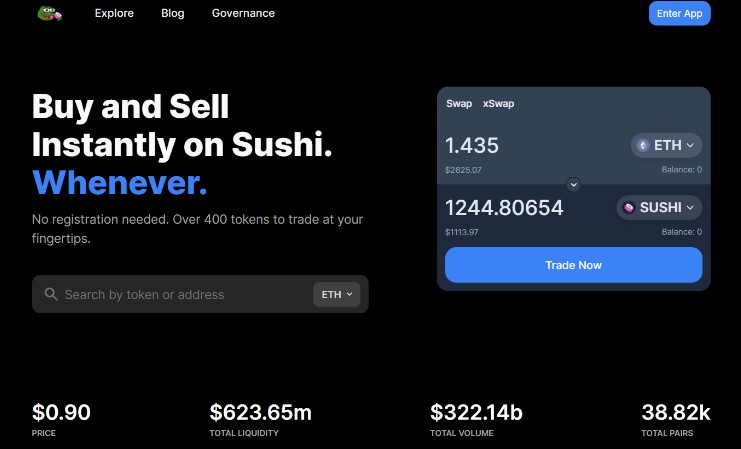 SushiSwap is a decentralized exchange created as a fork of Uniswap. Like Uniswap, it is a KYC-free exchange based on the Ethereum blockchain.
Compared to Uniswap, SushiSwap offers a broader selection of tokens. It also has high liquidity due to the use of automated market-making algorithms.
Bitcoin ATMs
Are you impressed with the options above? You can also purchase BTC without KYC using a Bitcoin ATM.
Bitcoin ATMs don't require any type of identity verification. Instead, you pay for your purchase via cash or credit/debit card and receive your Bitcoin within minutes.
Still, the amount of BTC you can buy from ATMs is usually limited. For example, most ATM providers impose a daily limit of up to $10,000 on unverified transactions.
Tax Reporting when You Buy Crypto without KYC: MUST READ! 📈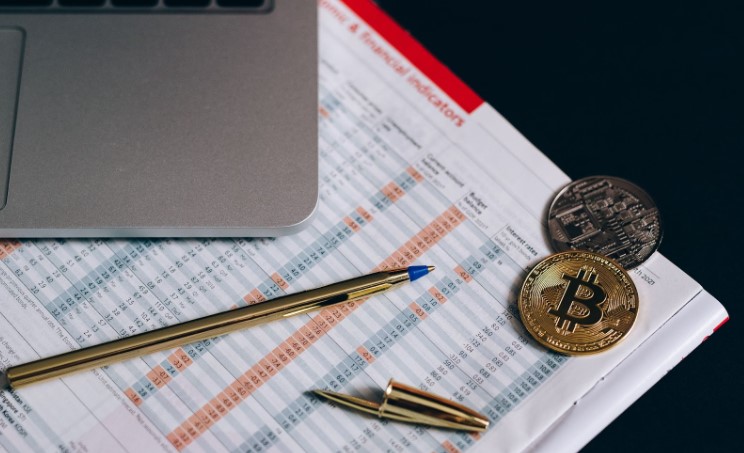 Taxation is a sensitive topic that worries many crypto traders and investors. For example, does a crypto exchange without verification provide any tax advantages?
Unfortunately, avoiding tax on crypto income is highly unlikely in most jurisdictions. Regardless of whether you use the exchange without KYC or have gone through verification, income received from crypto transactions is subject to taxation. For example, the IRS in the USA, CRA in Canada, and HMRC in the UK require residents to pay taxes from BTC earnings.
Final Words 🧷
If you're looking for a no-KYC crypto exchange, there are plenty of options available. Unfortunately, in most cases, such platforms have limitations on the maximum transaction amount or other restrictions that may prevent you from achieving your goals. Still, you can save a lot of time and effort by using one of these options.
Also, make sure to do your research and compare different exchanges to find the one that best suits your needs. Furthermore, don't forget about tax compliance when trading crypto!
FAQ ❓
Are Non-KYC Crypto Exchanges Legal?
Overall, non-KYC crypto exchanges aren't against the law. Still, you should always check your local regulations and taxation requirements when trading with cryptocurrencies.
What's the Maximum Transaction Amount on Non KYC Exchanges?
The maximum transaction amount depends on the exchange you're using. Some platforms don't have any limits, while others impose daily or monthly restrictions. Make sure to research your preferred exchange before signing up.
What Are the Pros and Cons of KYC on Exchanges?
The main pros of KYC-verified exchanges are access to higher trading limits and more features, such as margin trading. However, it comes at the cost of privacy since you must reveal personal information about yourself.
Non-KYC exchanges are more private but usually have limitations on transaction amounts and other features.
Can I Trade Crypto Without Verification on Platforms That Require KYC?
Verification requirements vary by platform. Certain exchanges only require verification when withdrawing funds. Therefore, you can easily buy Bitcoin no KYC is then required. However, some sites demand you to pass KYC checks before funding your account.
Can a No-KYC Crypto Exchange Implement the Verification Process in the Future?
An exchange without KYC can implement verification in the future. If it happens, users who have already signed up for the platform will have to complete KYC checks to continue using it.
How to Pick the Best Non-KYC Crypto Exchange?
When looking for an exchange without KYC, check out its security standards, fees, limits, and other details. Also, check for any negative reviews on the platform or customer feedback before signing up.