Ethereum, the pioneering smart contract platform, has been at the forefront of blockchain innovation for years. But there's one aspect that has long been a challenge: privacy. Enter Nocturne, a rising star in the world of privacy solutions on Ethereum. The recent announcement of a $6 million investment from Bain Cap Crypto, Polychain Capital, and Ethereum's co-founder Vitalik Buterin is a testament to the significance of Nocturne's mission.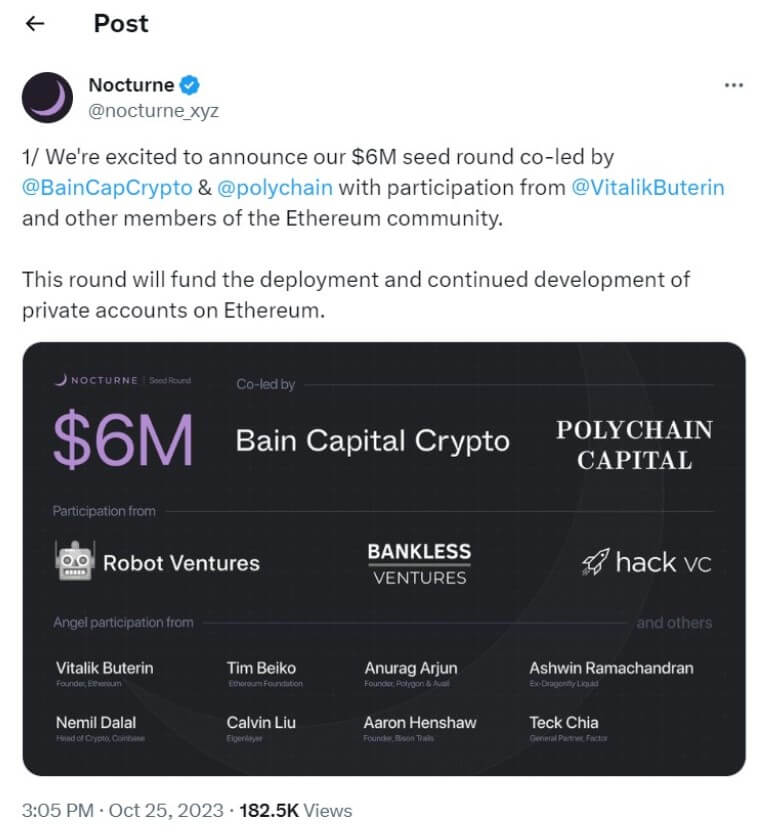 Nocturne's Ambitious Mission
Privacy in the blockchain world is a topic of paramount importance. While blockchain technology's decentralized and transparent nature has many advantages, it comes with a drawback: it's challenging to maintain user privacy. Nocturne recognized this challenge and embarked on a mission to address it.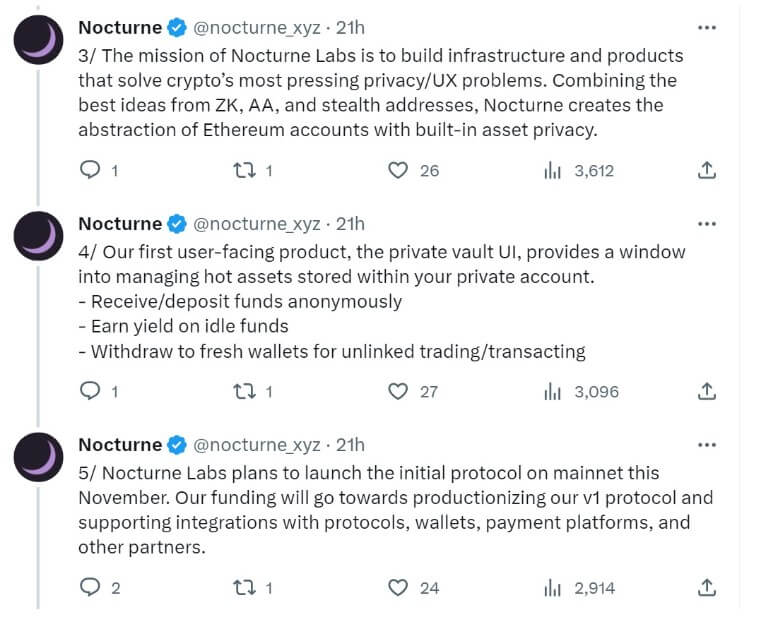 The Nocturne team is developing a cutting-edge zero-disclosure proof-of-concept protocol. This protocol aims to enable Ethereum users to conduct transactions, trade on decentralized exchanges (DEXs), and stake ETH without revealing their primary address. In essence, it's about making Ethereum transactions more confidential, offering users the privacy they desire while preserving the blockchain's core principles.
How Nocturne Works: The Zero-Disclosure Approach
Nocturne's approach to enhancing Ethereum's privacy is centered on zero-disclosure. The idea is simple: when users want to anonymize their transactions, they deposit Nocturne. This deposit serves as a mechanism to initiate the confidential transaction process.
The heart of the system is the zero-disclosure proof-of-concept protocol. This protocol allows Nocturne to validate transactions without exposing the user's primary address. It's like sending a letter in a sealed envelope — everyone knows it's a letter, but no one can read it.
Crucially, Nocturne's innovation goes a step further. Before processing deposits, the project conducts thorough checks to ensure they have no connections to criminal activities. That is a proactive measure to prevent the laundering stolen cryptocurrencies and maintain the system's integrity.
You can also discover: Ethereum's Failed Holesky Testnet Launch
Why Nocturne's Approach Matters
The importance of Nocturne's approach cannot be overstated. Ethereum, as a decentralized platform, relies on transparency and immutability. However, this transparency can sometimes be a double-edged sword. Users often require privacy to protect their financial information, transaction history, and personal data.
Nocturne strikes a balance by offering users the option of confidentiality without compromising the core principles of Ethereum. It's an elegant solution that caters to the growing demand for privacy in the blockchain space.
A Trio of Backers: Buterin, Bain Cap Crypto, and Polychain Capital
Nocturne's journey to redefine privacy on Ethereum has received a significant boost with a $6 million investment. The backing comes from a trio of influential figures in the crypto world: Vitalik Buterin, the co-founder of Ethereum; Bain Cap Crypto, a renowned crypto investment firm; and Polychain Capital, a major player in the blockchain investment landscape.
Vitalik Buterin's involvement in the project is particularly noteworthy. As one of the foremost figures in the blockchain industry, his support validates Nocturne's mission and emphasizes the importance of privacy solutions in the Ethereum ecosystem.
The Future of Ethereum's Privacy
With the support of vital players like Vitalik Buterin, Bain Cap Crypto, and Polychain Capital, Nocturne is poised to impact Ethereum's privacy landscape significantly. As the project continues to develop and refine its zero-disclosure protocol, Ethereum users can look forward to a future where privacy and transparency coexist harmoniously.
Nocturne's innovative approach ensures that Ethereum remains at the forefront of blockchain technology while addressing a fundamental challenge. As the crypto community eagerly awaits the implementation of Nocturne's privacy solutions, it's clear that the future of Ethereum's privacy has never looked brighter.