In the dynamic and ever-evolving world of cryptocurrency, data accuracy is paramount. However, a recent controversy has brought to light a significant barrier impeding the accessibility of up-to-date project information. CoinMarketCap, one of the most prominent cryptocurrency data platforms, has been charging a hefty fee of $5,000 for project data updates. This issue, initially raised by the Ergo blockchain protocol team, has sparked concern throughout the crypto community. 
The Ergo Blockchain Protocol's Dilemma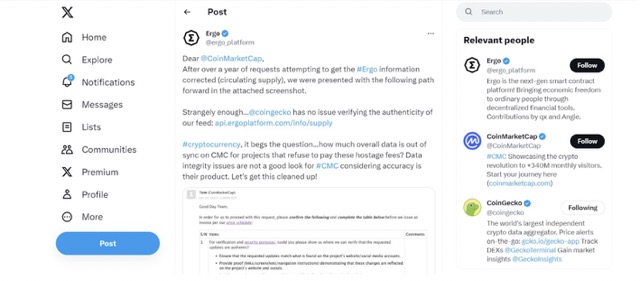 The controversy began when the Ergo blockchain protocol team approached CoinMarketCap to update the data feed, specifically to reflect the correct number of tokens in circulation. What they anticipated to be a routine data update process was quite the opposite. CoinMarketCap, instead of facilitating the update, began requesting a substantial fee of $5,000 for the service. And that is not the only case: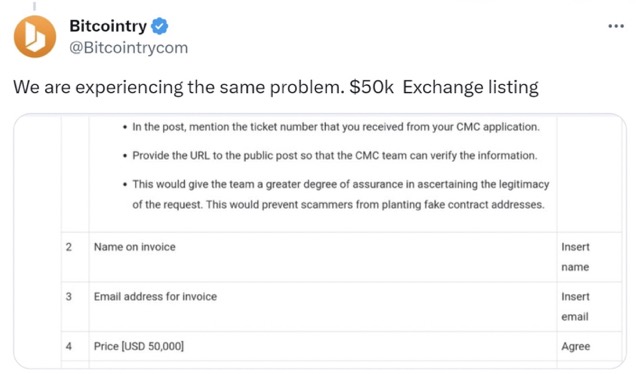 This sudden demand for payment left the Ergo team perplexed and frustrated. In an ecosystem that thrives on transparency and accessibility, such barriers to data accuracy are concerning. It raises questions about the role of data aggregators and their commitment to providing accurate information to the community.
CoinGecko: A Free Alternative
The Ergo team's experience with CoinMarketCap prompted them to explore alternatives. They discovered that CoinGecko, a competitor in the cryptocurrency data space, offers data updates free of charge. This revelation underscores a critical distinction in the approach taken by different data platforms.
The availability of free updates on CoinGecko suggests a more open and community-oriented model, which is aligned with the principles of blockchain technology and cryptocurrency. For emerging crypto projects, this can be a significant relief, enabling them to keep their project information current without incurring additional costs.
Crypto Exchange Bitcointry's Costly Listing
The cost implications of CoinMarketCap's paywall continue beyond data updates. Crypto exchanges looking to be listed on the platform face even steeper fees. In this case, the price tag for a stock exchange listing reaches a staggering $50,000. That poses an even greater challenge, as it creates an exclusive environment where only exchanges with substantial financial backing can afford the privilege of being featured on CoinMarketCap.
Impact on Emerging Crypto Projects
The consequence of these fees is most acutely felt by young crypto projects yet to amass substantial investments. For these projects, a $5,000 charge for a data update or a $50,000 fee for an exchange listing can be an insurmountable barrier. As a result, they may have to contend with inaccurate or outdated data on CoinMarketCap or, worse, be absent from the platform altogether.
This exclusionary approach not only stifles innovation and diversity within the crypto space but also impedes the growth and potential of emerging projects. In a field where access to data is crucial for investors, traders, and enthusiasts, this paywall becomes a roadblock to informed decision-making.
Discover more stories, facts, and news here! 
Conclusion: The Need for Inclusivity and Transparency
The controversy surrounding CoinMarketCap's charges for project data updates and exchange listings highlights a critical issue in the cryptocurrency data space. While it's understood that data platforms need to cover their costs, it's equally essential to maintain the principles of transparency and inclusivity at the heart of blockchain technology.
For the crypto community to thrive, open access to accurate and up-to-date information is essential. Data platforms have a responsibility to balance their operational needs with the support of emerging projects. The paywall approach adopted by CoinMarketCap raises concerns about the prioritization of profit over the dissemination of accurate data, which should be a foundational pillar of the cryptocurrency ecosystem. The crypto community now looks to data platforms for a reevaluation of their pricing models to ensure that data remains accessible to all, fostering a more vibrant and diverse crypto landscape.