In blockchain-based gaming, innovation and excitement continue to shape the landscape. Aptos Arena, an arcade-style shooter built on the Aptos blockchain, has emerged as a standout example of how gaming and cryptocurrency can combine to create a dynamic and rewarding experience. Since its launch, Aptos Arena has sparked a remarkable 13% increase in the value of APT, its native cryptocurrency. Let's delve into this extraordinary journey.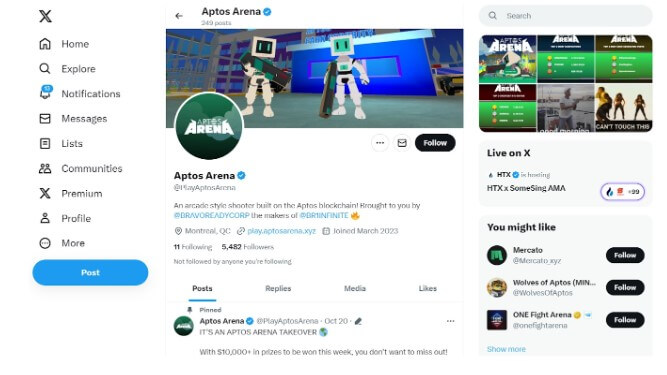 You might also like: Exploring POL Smart Contracts on Testnet #Polygon
Aptos Arena Unleashed: A New Frontier in Gaming
Aptos Arena brings a fresh perspective to the gaming world, offering players a thrilling multiplayer shooter experience beyond traditional gaming. That isn't just about firing shots and defeating opponents; it's about winning cryptocurrency. Aptos Arena's unique concept rewards the best players with APT, the native token of the Aptos blockchain.
Earning Real Rewards: The APT Payoff
One of the standout features of Aptos Arena is the opportunity for players to earn real rewards while enjoying a gaming experience. Players spawn in the game and accumulate APT for each opponent they take down. This approach adds a novel twist to the traditional gaming model, providing an enticing incentive for players to immerse themselves in the virtual battlefield.
Some dedicated players have reported impressive earnings, boasting about raking in 60 APT daily. To put that into perspective, 60 APT can translate to approximately $350, showcasing the genuine potential for financial gains through skillful gaming.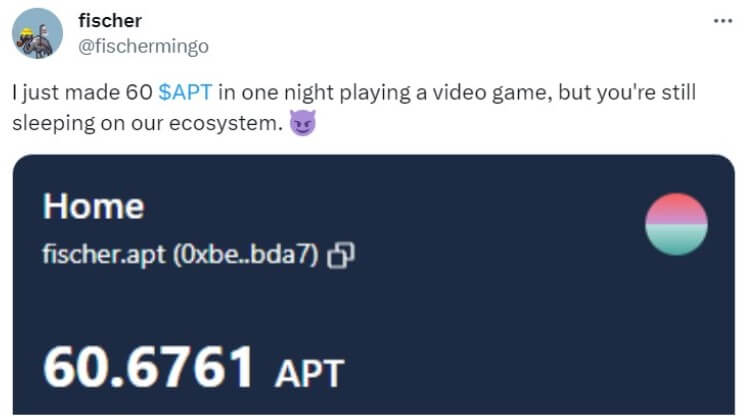 Events and Giveaways: Fun and Fortune Combined
Aptos Arena doesn't stop at in-game earnings. The developers have added excitement through various events, with over $10,000 in giveaways and the chance to win NFTs (Non-Fungible Tokens). These events enhance the game's competitiveness and offer players additional avenues to boost their APT holdings.
Challenges and Triumphs: Aptos Arena's Appeal
While Aptos Arena has drawn in many enthusiastic players eager to reap the rewards, it's worth noting that not all find the game a walk in the park. Some players have encountered difficulties, finding the gameplay to be quite challenging. The game's intensity and the skill required to excel can be daunting, but for many, it only adds to the thrill and sense of accomplishment.
The Impact on APT's Value
The real magic of Aptos Arena lies in its impact on the Aptos cryptocurrency (APT). Since the game's launch, APT has seen an impressive 13% increase in value. This growth speaks to the game's unique fusion of blockchain technology and entertainment, creating an ecosystem where players are rewarded and APT holders witness the value of their holdings grow.
Aptos Arena: A Game-Changer for Blockchain Gaming?
Aptos Arena's arcade-style shooter isn't just about gaming; it's a testament to the innovative power of blockchain technology. By combining cryptocurrency rewards with engaging gameplay, it has succeeded in drawing attention and fostering a vibrant gaming community.
As the gaming industry continues to evolve, Aptos Arena stands as an example of what the future might hold. The convergence of blockchain technology, gaming, and rewards is a trend that is likely to expand, offering new opportunities for players and investors alike. With Aptos Arena leading the charge, it's clear that the fusion of gaming and cryptocurrency is a winning formula for all involved.